---
---
Ten Favorite Recipes for Teens
(Chapter 25 of the book)
In This Chapter
Bringing students into the kitchen with real meal recipes
Giving teens healthier versions of fast-food favorites
Preparing teenagers for eating away from home
Why did the student eat his homework?

The teacher told him it was a piece of cake.
Junior high and high school students are typically very image and body conscious—and today's kids are more health-savvy than ever. Soon, they'll be moving away from home, off to college or jobs. Don't let them cut the apron strings without first giving them a solid foundation in making tasty, balanced meals all by themselves. With a solid recipe repertoire, they'll never be forced to survive on fast-food or costly take-out. Awesome!
Having Your Pizza—and Eating It Too!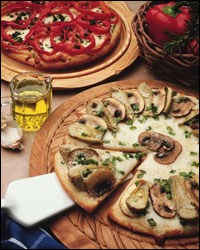 Teenagers need food—constantly! Adolescent eating machines can break out of the fast food habit but still enjoy their favorite meals—including pizza, burgers, and fries—with these nutritious but flavor-packed recipes.
Graduating to Main Courses and Side Dishes
After your young chef has a personal set of equipment, think about providing a permanent place for all these great tools. It can be just about any type of container, as long as it's easily accessible to the child and not stuck away in a closet piled under stacks of linens or other things. Here's a few suggestions for places in which to store your kid's cookware:
By the time kids are old enough to drive, they should be able to cook a complete meal for themselves. These recipes are simple enough for even younger teenagers to make, and busy parents can appreciate being treated to a well-made, tasty meal that's balanced and nutritious.
Copyright © 1999, 2007 by Kate Heyhoe