---
---
Mexican Fiesta Taco or Burrito Mix
A Cooking with Kids Original Recipe

Preparation time: 5 minutes
Cooking time: 15 minutes
Yield: 4 cups taco filling, or enough for 12 to 16 tacos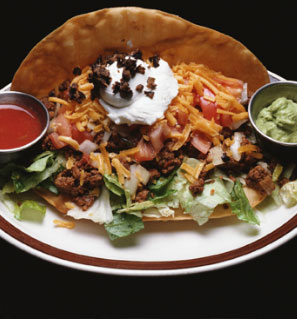 Lightly seasoned, this tasty but mild mix satisfies delicate and sensitive taste buds; for a spicier flavor, simply increase the heat with extra ground chiles or add hot sauce. Fiesta corn, which includes red and green bell peppers, is readily available frozen or canned, making this an easy, instant, emergency meal, especially if you keep frozen ground turkey on hand. It comes together in 20 minutes and young children can safely help by measuring and stirring. Kids old enough to handle a knife, and cook on the stovetop can make this meal themselves, with parental supervision.
Ingredients and steps
2 cups frozen Mexican Fiesta Corn (or one 15.5 ounce can)
1/2 medium onion
1 tablespoon canola oil
1-1/2 teaspoons ground cumin
3/4 teaspoon dried oregano
1/2 teaspoon paprika
1/8 teaspoon ground red chile (or chili powder)
3/4 pound ground turkey
1/4 teaspoon salt
1 lime
1. Drain and rinse canned corn; if using frozen corn, don't rinse or thaw.
2. Peel and chop onion.
3. Heat the oil in skillet and cook onion on high until it begins to soften, about 1 to 2 minutes.
4. Stir in the corn, cumin, oregano, paprika, and ground red chile.
5. Spread mixture in single layer and cook on medium-high until lightly browned on the bottom, from 2 to 5 minutes depending on the cookware used.
6. Stir and cook in single layer until browned further, with little charred spots on the edges (from 1 to 3 minutes).
7. Spoon the corn mixture into a serving bowl and set aside.
8. Brown the ground turkey with salt on high in the same pan, breaking up the turkey until crumbly. Cook until the turkey is no longer pink, about 5 to 8 minutes.
9. Stir the corn mixture back into the pan.
10. Cut lime in half. Squeeze the lime's juice on top. Cook until heated through.
11. To serve, spoon taco mixture into the same serving bowl, and serve with your favorite taco fixings like shredded lettuce, cheese, salsa, tomatoes, or green onion. Scoop the mixture up with Yo Quiero Taco Shells, or roll into soft flour or corn tortillas to make burritos.
Vary It!
Turn this into Vegetarian Taco Mix by omitting the turkey and heating the corn mixture with a can of drained beans, such as black beans or pinto beans.
Recipe © 1999 by Kate Heyhoe