---
---
Chinese "Barbecued" Pork
A Cooking with Kids Original Recipe
Preparation time: 10 minutes or less
2 hours or overnight, refrigerated
Cooking time: 30 minutes
Yield: 10 servings as a small main course; more when used as a seasoning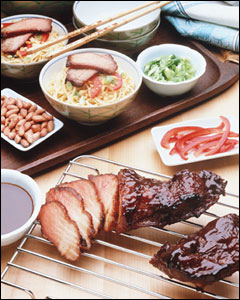 Dozens of cities around the globe now host neighborhoods known as Chinatown or Little Asia. Char shu (CHAW-shoo), which is roasted pork strips glistening with a delicious dark, sweet, gooey glaze, hang from hooks in the restaurant windows of these areas. Also called barbecue pork on menus, the meat is chopped or sliced into fine pieces, then used in small amounts to flavor such dishes as fried rice, chow mein, and stir-fry. This homemade version is made from pork tenderloin, a cut so lean that it cooks quickly, but can also dry out if overcooked. While not quite as gooey as the authentic version, these tenderloins still have the same flavor. Serve this pork the way the Chinese do—just a few, thin slices to accent a meal or to season other dishes.
One recipe tester loved this dish so much that she wrote: "This as a meal to serve guests—it presents beautifully and is better than anything you can get at a restaurant. Plus, you can prepare everything in advance and sit down with guests while it cooks." Kids can help prepare the marinade and squish the meat around in the sealed bag to mix, while parents take charge of the easy cooking and slicing.
You need a shallow pan with a rack for this recipe.
Ingredients and steps
2 cloves garlic
1 inch fresh ginger
2 green onions
2 pounds pork tenderloins
1/4 cup soy sauce
3 tablespoons dry sherry
3 tablespoons brown sugar
1/2 teaspoon Chinese Five-Spice
4 tablespoons honey, divided
1. Peel and finely chop the garlic.
2. Finely chop the ginger (you can leave the peel on).
3. Trim and coarsely chop the green onions.
4. Cut the tenderloins to make approximately four 6-inch lengths.
5. In a plastic resealable bag or shallow dish, mix the garlic, ginger, green onions, soy sauce, sherry, brown sugar, Chinese Five-Spice, 1 tablespoon of the honey, and pork.
6. Seal the bag or cover the pan and marinate, refrigerated, 2 hours or overnight. Turn the bag over or mix the pieces up several times while marinating.
7. When ready to cook, heat oven to 450 degrees F.
8. Line a shallow pan with foil for easy clean up, then place a rack on top. Add enough water to the pan to come 1/4-inch up the sides, but not enough to cover the rack.
9. Mix 3 tablespoons honey with 1 tablespoon of the marinade.
10. Place the pork pieces on the rack. Baste with the honey mixture.
11. Bake 30 minutes, basting every 10 minutes. Pork is done when it reaches 150 degrees F. inside and the interior is just slightly pink. Let cool at least 15 minutes before serving.
12. To serve, slice thinly and serve at room temperature, or mix into other dishes as a seasoning.
Vary It!
Adults may enjoy this as an appetizer accompanied by hot Chinese mustard (available in most supermarkets) and soy sauce; children may wish to eat it with plum sauce (available in the Asian aisle of most markets) or simply eat it plain. As a main course, slice pork thinly and serve only a few pieces per person.

Cooking Tip
Tenderloins can be pricey, but if they're used sparingly, they can stretch into several meals. Or, try a pork loin, which is also very lean and less expensive than tenderloin. Cut into 6-inch pieces about 2 to 3 inches in diameter and cook as above.

Caution!
Never eat a marinade that has raw meat or fish soaking in it, unless you boil it for 3 minutes first. This marinade makes a wonderful sauce for rice and vegetables, but for food safety reasons, remember to boil it before serving.
Recipe © 1999 by Kate Heyhoe