---
---
Cooking with Kids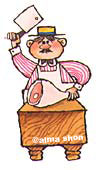 Published by Forkmedia LLC
"Feeding the web since 1994"
Our postal address is:
Forkmedia LLC
PO Box 2261
Wimberley, Texas 78676-2261
We can be reached via email at
Publisher: Thomas Way
Executive Editor: Kate Heyhoe

Advertising: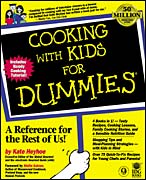 Cooking with Kids for Dummies by Kate Heyhoe was published in March, 1999 by IDG Books. No longer in print, the full content of the book will be published online on this website during the Fall and Winter of 2017.
This site, originally built to promote the book, currently contains excerpts, tips and recipes, fun & games, links to other kids' cooking sites plus The Peppered Leopard kids' area.
Digital photography Copyright © 1994-2017 Forkmedia LLC.
Drawings and Illustrations are Copyright © 1994-2017 Alma Shon.
Monkey Chef is Copyright © 2017 Forkmedia LLC.
The Peppered Leopard is Copyright © 1995-2017 Jim Keeshen Productions, Inc. All Rights Reserved.
Additional photographic images licensed from PhotoDisc, Inc. (and are Copyright © 1995-2017 PhotoDisc, Inc.)
This page updated August 2017


Praise for the Original
Cooking with Kids book