---
---
Cool-as-a-Cucumber Dressing
A Cooking with Kids Original Recipe (No-flame, No-fire)

Preparation time: 5 minutes
Yield: 2 cups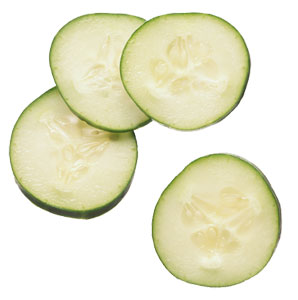 This refreshingly light blender dressing, spiked with just a hint of sweetness, makes twice as much as needed for the Surf's Up Seafood Salad, but it has so many other uses that it'll never go to waste. Use it to marinate the Grilled Velvet Chicken. Serve it with vegetable sticks as a dip. Blend it with ice to make an Indian lassi, a yogurt-based drink perfect for hot weather, as explained in the Lassi, Come Home! recipe. For other ways to use this versatile dressing, see the variations that follow the recipe.
Ingredients and Steps
1/2 pound cucumber (about 1/2 large cucumber or 2 small)
2 green onions
1/2 cup nonfat or lowfat yogurt
1/2 cup reduced-fat cream cheese
3 tablespoons white distilled vinegar
2 to 3 tablespoons honey, to taste
1/2 teaspoon dried dill, crushed
1/2 teaspoon salt
1/2 teaspoon white pepper, or to taste
1. Peel, seed, and coarsely chop the cucumber into large chunks.
2. Coarsely chop the green onions.
3. In a blender or food processor, process the cucumber, green onions, yogurt, cream cheese, vinegar, honey, dill, salt, and white pepper until pureed. The mixture will be light and airy, like the foam on an ocean wave. This dressing lasts four days in the refrigerator.
Vary It!
For an Indian-inspired cold soup, mix 2 cups of the dressing with 1 cup of defatted chicken broth and serve chilled with fresh mint. For a healthy and refreshing summer drink and after-school snack, blend with ice. Pour it on grilled fish as a sauce, or serve instead of tartar sauce. Coarsely chop the vegetables, replace the dill with cilantro and add chopped chiles and tomatoes for a salsa. Toss it with melon balls for a fruit salad. And of course, you can always serve it as a dressing for a simple green salad.
Recipe © 1999 by Kate Heyhoe