---
---
Buttermilk-Basil Dressing
A Cooking with Kids Original Recipe
Preparation time: 5 minutes or less
Yield: About 1-1/2 cups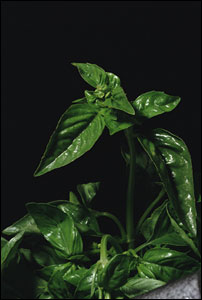 Even though it sounds fattening, buttermilk is actually a low-fat milk product. Originally, buttermilk was the remaining liquid from whole milk after the fat was churned into butter. Today, buttermilk is made by adding a special bacteria to low-fat milk, creating a pleasant tart and tangy taste—perfect for salad dressings, baked goods and marinades. Besides the buttermilk, the goat cheese, basil and lemon juice make this dressing strong enough that you only need a small amount for dressing greens. sliced tomatoes or tossing on pasta.

Cooking Tip
Don't be alarmed about the anchovy or anchovy paste in this recipe. If you've ever had Worcestershire Sauce or Caesar Salad and liked it, you've eaten anchovies and probably didn't even know it! Cooks like to use anchovies because they add a deeper flavor, but one that doesn't taste or smell fishy if used in small amounts.
Kid Tip
By using a handblender, mini-chopper or blender to make this dressing, even little kids can do most of the work. Make sure little hands don't come in contact with the blade - only parents should be the ones to empty the dressing from the chopping container, but young ones can add the ingredients, press the buttons, and shake the jar to mix!
You need a shallow pan with a rack for this recipe.
Ingredients and steps
1 cup buttermilk
1/3 to 1/2 cup goat cheese (about 5 ounces)
1/3 cup packed basil leaves
1 clove garlic, peeled
3 tablespoons lemon juice
1/4 teaspoon salt
pepper to taste
1-2 anchovies or 1/2 teaspoon anchovy paste (optional)
Place all ingredients in mixing unit of a hand blender, blender or mini chopper and process until smooth. Store in glass jar and shake before using. Makes about 1-1/2 cups.
Recipe © 1999 by Kate Heyhoe