---
---

Happy, Dappy, Flappy Jacks
A Cooking with Kids Original Recipe
Prep time: 10 minutes
Cook time: 25 minutes
Yield: 4 to 6 servings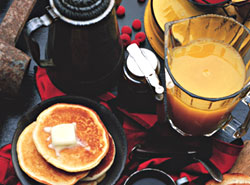 Pancakes (also called flapjacks) make a happy meal anytime of day—you can even prepare the batter the night before. Fresh fruit and cornmeal add a crispy texture, enhanced by the flavor of real maple syrup. For savory lunch, brunch, or dinner pancakes, see the variations listed after the recipe.
Do this first:
Squeeze 2 tablespoons lemon juice.
Melt 2 tablespoons butter in a saucepan, or microwave covered on low heat, checking every 30 seconds until melted. Be careful not too microwave too long or the butter will overheat and splatter.
Ingredients and steps
2 small pears or 1 large Granny Smith apple
2 tablespoons lemon juice
2 eggs
1-1/2 cups nonfat, lowfat, or regular milk
1 cup all-purpose flour
1 cup cornmeal
2 teaspoons baking powder
1 teaspoon salt
1 tablespoon sugar (optional)
2 tablespoons melted butter
Maple syrup to taste
Core and cut the pears or apple into 1/2-inch dice. Place the fruit in a small bowl and toss with lemon juice to prevent the cut pieces from turning brown.
In a medium mixing bowl, beat the eggs and milk together with the fork just until blended.
In a small mixing bowl, mix together the flour, cornmeal, baking powder, salt, and sugar (if using).
Using a rubber spatula, stir the dry ingredients into the bowl of wet ingredients until just moistened. Stir in the melted butter and one cup of the chopped fruit until all ingredients are evenly moist (small lumps are okay). Don't beat the batter—that makes pancakes tough. (For thinner pancakes, add a spoonful or two more milk.)
At this point, you can cover and refrigerate the mixture and the reserved fruit, if desired.
When you're ready to make the pancakes, lightly coat the cooking surface with nonstick spray. Heat the griddle or skillet over medium heat until a few drops of water sizzle and dance across the surface. Use a ladle or measuring cup to pour 1/2 cup (to make small pancakes) to 1 cup (for a large pancake) of the batter onto the griddle.
Cook pancakes until small bubbles open up all over the surface and the bottom of the pancake is brown, about 2 to 3 minutes. If the first pancake is too brown, lower the heat. Use a heatproof spatula to flip the pancake. If the pancake starts to break as you pick it up, it's not thoroughly cooked; cook it a few more seconds.
Cook pancakes until golden brown on the other side, about 30 seconds. Remove pancakes to a plate and invert a colander over them to keep warm. Repeat with remaining batter until all pancakes are made.
Serve the pancakes sprinkled with the reserved chopped fruit and maple syrup.
Vary It! For a different type of meal, make savory pancakes by adding herbs, ham, broccoli, spinach, or mushrooms and topping with sour cream, cheese, ricotta, salsa, or a light sauce. The French take thin pancakes (called crepes, pronounced KREHPS, and fill them with sausages for a breakfast dish or fruit and jam for dessert. To make thinner pancakes similar to crepes, simply add more milk to the recipe.

The first pancake usually ends up as a sacrifice—it may be over or undercooked until you've adjusted the heat properly. It likely tastes fine, but may not be picture-perfect. Serve it underneath another pancake, or eat it as a snack as you go.

Make the pancake batter the night before and then cover and refrigerate for use the next morning. Save additional time by cooking pancakes in two skillets simultaneously.

All ages can help, from young ones measuring and stirring to older ones cooking and turning the flapjacks.
Recipe © 1999 by Kate Heyhoe