---
---
Yo Quiero Taco Shells
A Cooking with Kids Original Recipe

Light because they're baked, not fried, these unusual taco shells look more like four-legged starfish, blooming flowers, or fanciful bowls than traditional shells do. You shape them by using an inverted muffin tin, gently nestling a softened tortilla in-between the muffin cups. The tortillas bake into an X-shape that looks like a four-pointed star, with a cup-like indentation in the center to hold the taco ingredients, surrounded by four points that stick out like handles. Make them in batches and reheat just before serving.
Also, unlike deep fried shells that can splatter hot oil on tender skin, these baked shells are much safer for kids to make. Young children and school-age kids can moisten the tortillas, coat them with nonstick spray, sprinkle spices on them, and fit them in the muffin tin. Parents and older children can use oven mitts to move the pans in and out of the oven.
Preparation time: 5 minutes
Cooking time: 12-15 minutes
Yield: 6 taco shells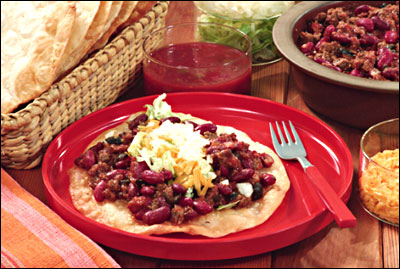 Ingredients and Steps
6 corn tortillas (6-inch diameter works best)
Nonstick vegetable spray
Place a rack in the center of the oven. Heat oven to 375 degrees.
While the oven is heating, soften the tortillas, according to the "Softening tortillas—without cracking up" sidebar, later in this chapter.
Place a standard-sized muffin tin (one that makes 12 muffins) upside down on the counter. Note that the 12 muffin cups point upward, with their bottoms raised up, leaving six vacant areas between them.
When the softened tortillas are cool enough to handle, lightly coat each tortilla with nonstick vegetable spray.
Place a softened corn tortilla over one of the vacant areas of the muffin tin, coated side facing up. Gently poke the center down with your clean fingers, folding up the edges between the muffin cups as shown in Figure 20-1, forming an X.
Bake the tortillas for 15 to 20 minutes, until they reach desired crispness. (I prefer mine slightly chewy, so I remove them after 15 minutes, but cook them longer if you like them fully crisp). Serve hot.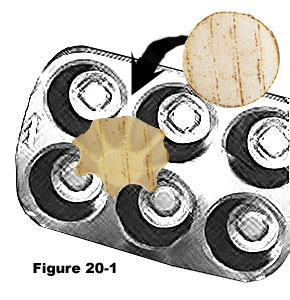 Figure 20-1: Bake tortillas on an upside-down muffin tin to make crispy shells.

When you have two tortillas in vacant areas next to each other, both of them will have edges that need to fold up into the same space, between the cups, as shown in Figure 20-1. Adjust them so that the folded edges lie next to each other, each pointing in the opposite direction, instead of being jammed up.
You can also make these in advance and reheat for 3 to 5 minutes at 375 degrees just before serving.
To use as taco shells, fill the cones with your favorite taco fixings, or try the Mexican Fiesta Taco Mix.
Vary It! For a tastier shell, sprinkle on a pinch of ground cumin, chili powder, granulated garlic, salt, or other favorite spices before baking.

Softening tortillas—without cracking up
Unless they're very fresh, tortillas can crack and break when rolling into wraps or burritos. To soften corn or flour tortillas and to heat them, rub each tortilla on one side lightly with water. Using microwave safe plates, place from 1 to 5 tortillas on a plate and cover with an inverted plate, resting slightly ajar so that steam can escape. Microwave on high for 1 to 2 minutes. Let the tortillas steam for a minute or so before lifting up the plate. (Be sure to use potholders or oven mitts—the plates can get hot.) To cook more evenly, move the middle tortillas to the top and bottom of the stack, and microwave again another few seconds until the tortillas are soft and pliable. Serve them in the plates to keep the tortillas hot.
Recipe © 1999, 2007 by Kate Heyhoe