---
---
Tortelloni Toss
A Cooking with Kids Original Recipe

This 20-minute, one-pot recipe calls for tortelloni (tohr-tl-OH-nee), which means "big hats" in Italian, because that's what these stuffed pastas resemble. Pick up two 8-ounce packages of fresh tortelloni (found in the refrigerator case) or a 1-pound package of frozen tortelloni. If you can't find the plump tortelloni, substitute it's little brother, tortellini (tohr-tl-EE-nee)—smaller versions of the same pasta. Or, use stuffed ravioli, and even nonstuffed pasta, such as linguine or bow ties. Select any flavor of stuffing (cheese, meat, or mix) you prefer for this recipe.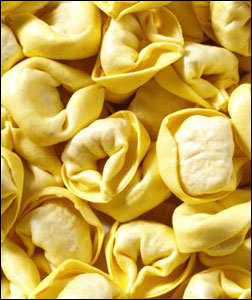 Chard, sometimes referred to as Swiss chard, looks a bit like overgrown spinach, another green that's often substituted for chard. Rich in beta-carotene, chard has large, crinkly, green leaves with thick stalks and comes in two main varieties: one type has silvery white stalks, while the other has ruby red stalks. I prefer the more distinctive flavor of red chard for this recipe, but white-stalked chard, spinach, and other greens all taste great, too. (Be sure to rinse the chard well in a sinkful of cold water.)
The key to cooking chard is stripping the leaves from the stalks—you'll want to use both the leaves and the stalks, but the stalks take longer to cook, so you need to start them first. Equipped with safety scissors, a young child can easily cut the leafy parts from the stalks and even cut the stalks into small pieces, performing the most time-consuming tasks of this recipe.
Preparation time: 5 minutes
Cooking time: 15 minutes
Yield: 4 servings as a main course, 6 to 8 as a side dish
Ingredients and Steps
1 bunch Swiss chard, preferably red chard (about 12 to 16 ounces), washed
3 cloves garlic
1 pound fresh or frozen tortelloni
2 to 3 tablespoons extra virgin olive oil
1/4 cup red wine vinegar.
1/8 teaspoon salt, or to taste
1/4 cup fresh basil (optional)
Grated Parmesan cheese
Bring a large pot of salted water to a boil.
While the water comes to a boil, prepare the chard. Using a knife or safety scissors, trim the leafy parts away from the stalks. Tear the leafy sections into pieces about 2 inches in size. Place the leafy sections in a colander in the sink and rinse with water. (Note: You need a colander to drain the cooked pasta. So if you have only one colander, remove the leafy sections to a bowl, allowing the water to cling to them.)
Cut the stalks across into 1/2-inch wide pieces. Set aside.
Peel and chop the garlic.
When the water comes to a boil, gently cook the tortelloni according to manufacturer's instructions or until just cooked (about 9 minutes for most brands, but time may vary, especially if substituting a differently-shaped pasta).
Reserve one cup of the cooking water (carefully scoop it out with a ladle or a heat-proof measuring cup).
Drain the tortelloni in the colander.
In the same pot, heat the olive oil over medium heat. Stir in the garlic and cook until starting to soften but without browning, about 30 seconds.
Stir in the chard stalks and cook about 2 to 3 minutes. Add 1/3 cup of reserved pasta water, cover and simmer until tender, about 2 minutes.
Stir in the chard leaves, salt, and another 1/3 cup pasta water and simmer until the leaves have just wilted, about 1 to 2 minutes.
Stir in the red wine vinegar. Turn off the heat.
Toss the tortelloni with the chard sauce. If the mixture seems dry, drizzle on another spoonful of olive oil and a spoonful or more of pasta water.
If using fresh basil, chop it up. Serve pasta topped with basil and grated Parmesan.
Vary It! Substitute fresh spinach or other greens for the chard. Top with toasted pine nuts. Instead of extra virgin olive oil, use basil-flavored olive oil, available in most markets.
Recipe © 1999, 2007 by Kate Heyhoe