---
---
Lazy, Crazy Lasagna
A Cooking with Kids Original Recipe

You can make this lasagna without cooking the noodles first—a major time and energy saver—and you don't need to buy special no-cook lasagna noodles to make it either. Use any brand or regular lasagna noodles without cooking them first. This sounds crazy, but it really works! The trick is to add plenty of sauce and to bake the dish tightly covered. This recipe uses the Twice-as-Red Tomato Sauce or you can substitute 1 quart of your favorite tomato sauce. Kids can help prepare the filling and assemble the layers.
Preparation time: 15 minutes
Cooking time: 1 hour
Yield: 6 to 8 servings
Do this first:
Plan ahead by making 1 recipe of Twice-as-Red Tomato Sauce. If desired, make it at any time and freeze until ready to use; thaw overnight or in the microwave.
Chop enough fresh basil to make 2 tablespoons, or use 2 teaspoons dried basil, crushed.
Shred enough mozzarella cheese to make 1/2 cup.
To make the Twice-as-Red Tomato Sauce at the same time as the lasagna, start cooking the sauce first. While the sauce cooks, prepare the ricotta mixture and mozzarella for this recipe, and heat the oven. After the sauce and ricotta mixture are ready, assembling the dish goes quickly. Allow about 1 hour to prepare the sauce (mostly unattended) and another 5 minutes to assemble the lasagna before baking.
Ingredients and Steps
1 large zucchini
1 15-ounce container lowfat or nonfat ricotta cheese
2 large eggs
1/4 cup grated Parmesan
1/2 cup shredded mozzarella cheese
2 tablespoons chopped fresh basil, or 2 teaspoons dried basil
1 recipe Twice-as-Red Tomato Sauce
1/2 pound lasagna noodles, uncooked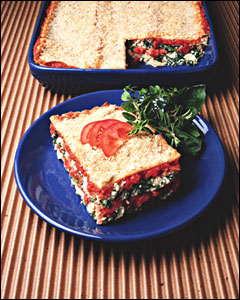 Using a grater, shred the zucchini, discarding the knobby stem. (Be careful not to grate your fingers.)
In a mixing bowl, stir together the zucchini, ricotta cheese, eggs, Parmesan, and basil until blended.
To assemble the lasagna, spread 1-1/2 cups of sauce into a 13x9x2 inch pan.
Arrange 1/3 of the uncooked lasagna noodles on top of the sauce, breaking the noodles to fit if necessary. (Don't worry about gaps: the noodles will expand during cooking.)
Layer half the ricotta mixture on the noodles.
Layer the remaining ingredients in the following order: half of the remaining noodles, half of the remaining sauce, all of the remaining ricotta mixture.
Complete the dish with a layer of noodles topped with the rest of sauce.
Sprinkle the mozzarella evenly on top of the sauce.
Cover tightly with foil and bake for 50 minutes. Let sit 5 minutes before removing the foil. Dust with Parmesan as desired before serving.
Recipe © 1999, 2007 by Kate Heyhoe