---
---
Everyday Oven Fries
A Cooking with Kids Original Recipe

French fries will always be near and dear to my heart—it's almost impossible to resist such hot and crispy treats. But these oven-fries are a strong rival to the deep-fried kind, and health-wise, they beat fat-laden French fries hands down. Hot out of the oven, these crispy-on-the-outside, soft-on-the-inside fries are good enough to enjoy every day of the week—without guilt. Youngsters old enough to control a sharp knife can make them with a parent's supervision, while little hands can smoosh the potato wedges around in the oil to coat.
Preparation time: 5 minutes
Cooking time: 40 to 45 minutes, depending on the thickness of the "fries"
Yield: 4 small servings
Ingredients and Steps
2 pounds Idaho potatoes
2 to 3 tablespoons corn oil or other vegetable oil
Salt and freshly ground pepper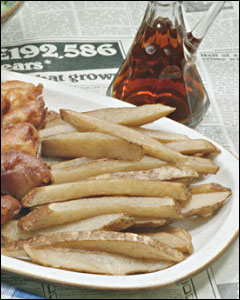 Heat oven to 400 degrees. Line a jelly roll pan with foil for easy clean up.
Wash the potatoes well, but don't peel them. Pat dry.
Slice the potatoes into halves, then into quarters lengthwise. Placing your knife at the pointed edge of each quarter, carefully slice down into thin wedges, as shown in Figure 19-1. (The thinner the slice, the crispier the fry will be.) Even if this seems like a lot of potatoes, they shrink considerably during cooking.
Pour the oil into the center of the baking sheet. Using clean hands, push the potato wedges around in the oil, flipping as needed to coat on all sides.
Line the wedges up on their sides, as shown in Figure 19-1. Sprinkle the tops with salt to taste and plenty of fresh cracked pepper.
Bake about 45 minutes, depending on the thickness of the potatoes. Check the potatoes after 35 minutes to make sure they're not browning too much. Serve hot out of the oven as a side dish or snack.

Corn oil imparts a particular sweetness to the potatoes in this dish, although any vegetable oil will work.

Be sure to use a sharp knife to cut through the potatoes effortlessly. Dull knives can slip, risking an accidental cut. If children can't control a knife safely, parents should cut the potatoes and let the kids rub them in the oil and add salt and pepper.
Recipe © 1999, 2007 by Kate Heyhoe