---
---
Saturday Night Date Shake
A Cooking with Kids Original Recipe (No-flame, No-fire)

Preparation time: 5 minutes or less
Yield: 1 shake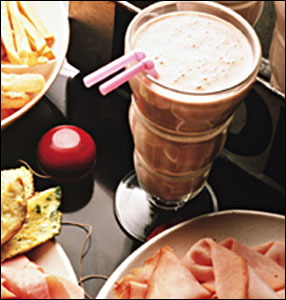 Dates grow high in the palm trees of hot, dry deserts. The Middle East, Africa, and California produce these sweet, succulent fruits in abundance. Some of the best varieties are the Medjool and Barhi types, available at whole foods markets and specialty stores—their rich, buttery flavor surpasses the average dates sold in supermarkets and are worth seeking out.
Buy pre-chopped dates, or chop your own from whole pitted ones. A blender or food processor works fine, but if you're chopping by hand, sprinkle a bit of powdered sugar on the date bits to keep them from sticking together.
This super-refreshing recipe takes only a few whirls in the blender and voilá!—you have a cold, frothy snack to refresh everyone from Saturday night party-goers to after-school athletes. For a post-practice pick-me-up, make it in batches for the whole team. You'll be an instant hit.
Ingredients and Steps
1/3 cup chopped dates
1/2 to 3/4 cup 2% milk
1/2 pint vanilla frozen yogurt (1 cup)
Place the dates in the blender and blend until more finely chopped.
Add the milk and blend until mixed.
Blend in the frozen yogurt until frothy.
Pour into a tall, chilled glass and serve immediately. Don't be concerned if some small bits of dates remain—enjoy these tasty, chewy morsels with a spoon.

Besides their high natural sugar content, dates are rich in potassium, a mineral particularly important for active athletes to balance the body's fluids. In fact, while bananas lead dates in vitamins C and A, dates have about twice as much potassium, three times as much iron, twice as much protein, and six times as much calcium as bananas. Snack on them whole, stuff them with almonds, or spread them with cream cheese for an instant, high-energy snack.
Recipe © 1999, 2007 by Kate Heyhoe