Crockpot Pizza Soup
A Cooking with Kids Original Recipe

Jean of San Antonio, Texas, has a passion—and a definite knack—for crockpot cooking. I adapted this dish from Jean's personal collection of recipes, ones frequently requested by her fellow teachers and busy parents. I have to admit I was skeptical when I first read it (thinking this dish may be too much like "kid-food" because it's so simple) but I'm pleased to report the that taste is outstanding!—a really satisfying soup for adults, young kids, and teenagers alike. This recipe makes seasoning a snap by using "Italian style" or "Italian recipe" canned stewed tomatoes, and canned fresh tomatoes packed with basil, garlic, and oregano—some of the quality time-savers available in cans today. A crockpot slow cooks this dish in just a few hours, but the variation at the end of the recipe gives instructions for stovetop cooking. Round out this meal with a simple salad and some breadsticks or focaccia.
Prep time: 15 minutes
Cook time: 4 hours in a slow cooker
Yield: 4 to 6 servings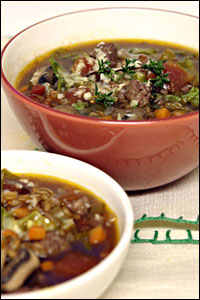 Do this first:
Slice enough mushrooms to make 3 ounces (about 1 cup), or use convenient pre-sliced mushrooms (you need half of a 6-ounce container). White button mushrooms, crimini, or portabella mushrooms all work well. Keep the mushrooms refrigerated until they're called for in the recipe.
Grate enough Parmesan or mozzarella cheese to make 1/2 cup; refrigerate until ready to serve.
Ingredients and Steps:
3 links of turkey Italian-style sausage (about 2/3 pound)
1 teaspoon olive oil
1 medium onion
1 small green bell pepper
14.5-ounce can stewed tomatoes, Italian style
14.5-ounce can fresh diced tomatoes, Italian style or with basil, garlic, and oregano
14.5-ounce can beef broth, or 2 cups fresh
1 cup sliced mushrooms (about 3 ounces)
1 teaspoon fresh oregano leaves (optional)
Grated Parmesan or mozzarella cheese as desired (or about 1/2 cup)
Remove the sausage from its casings.
Heat the olive oil in a non-stick skillet on medium-high heat. Add the turkey sausage, breaking it up with a wooden spoon.
While the sausage cooks, peel and chop the onion.
Chop the bell pepper into 1-inch chunks, discarding the seeds, membranes, and stem. Set aside.
When the sausage is half-cooked and breaks up easily into pecan-size chunks, stir in the onion. Cook, stirring occasionally, until the sausage is browned and the onion soft and cooked through.
Pour the mixture into a 3-1/2 to 5 quart slow cooker.
Stir in the cans of stewed and diced tomatoes, beef broth, and the bell pepper.
Cook on low about 3-1/2 to 4 hours, or until the bell pepper is just cooked through. Stir in the mushrooms and fresh oregano (if using) and cook another 30 minutes. (It doesn't hurt to cook the soup longer, but the longer bell pepper cooks, the softer it becomes.)
Serve in bowls, passing the grated cheese on the side.
Vary It! To cook on the stovetop, follow Steps 1 through 5 and combine the ingredients in Steps 6 and 7 in a heavy-bottomed pot instead of a slow cooker. Cover and simmer on low for about 45 minutes, stirring occasionally, or until the flavors come together. Stir in the ingredients in Step 8 and simmer another 10 minutes, or until the mushrooms soften. Serve as in Step 9.

Vary It! Instead of Italian sausage, add 1/2 pound lowfat pepperoni or smoked sausage directly to the crockpot, without pre-cooking.
For general slow-cooking tips on using crockpots, flip to Chapter 14.
Recipe © 1999, 2007 by Kate Heyhoe