Capture the Flag Pizza
p>
A Cooking with Kids Original Recipe

With a red sauce on the bottom, and a white and green topping, this luscious pizza captures the colors of the Italian flag. It borrows Swiss cheese from Italy's northern neighbor, for a luscious, nutty taste that pairs perfectly with spinach, a vegetable that's rich in vitamins A and C. Kids of all ages can help make—and devour—this simply superb, crowd-pleasing pizza pie.
Prep time: 15 minutes
Cook time: 15 minutes
Yield: One 15-inch pizza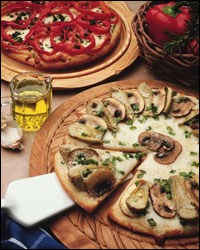 Do this first:
Roll dough for one 15 to 16-inch pizza crust into a pizza pan or baking sheet. Use the Pizza-Pizza: Double-Dough recipe (it makes two crusts, but you only need one for this recipe), or use your favorite crust.
Thaw a 10-ounce package frozen chopped spinach or cook 1 pound cleaned spinach leaves and chop. Squeeze the water from the spinach until it's very dry (reserve the squeezed liquid for a soup or sauce). Young children can do this by placing the cooled spinach in a sieve over a bowl and pressing on it with the back of a wooden spoon, a spatula, or with clean hands.
Shred enough Swiss cheese to make 2 cups, or use pre-shredded cheese.
Ingredients and steps:
1 cup cooked, chopped spinach, squeezed dry
2 cups shredded Swiss cheese
Dash white pepper (optional)
2 cloves garlic
1 8-ounce can tomato sauce
1 prepared pizza crust, uncooked
1/2 teaspoon Italian seasoning (mixed dried herbs)
2 teaspoons olive oil
2 tablespoons grated Parmesan (optional)
Heat the oven to 450 degrees.
Mix together the spinach, cheese, and a dash of white pepper in a bowl.
Peel and finely mince the cloves of garlic.
Spread the tomato sauce evenly over the crust.
Crush the Italian seasoning between your fingers and sprinkle over the sauce (a good task for little hands).
Arrange the spinach-cheese mixture on top of the sauce. Sprinkle on garlic.
Brush the edges of the crust with olive oil.
Bake until the crust is crisp and golden and the cheese melted, about 10 to 15 minutes. Let the pizza stand a few minutes before slicing. If desired, dust lightly with grated Parmesan. Serve hot.
Vary It!
Add a few strips of thinly sliced ham or prosciutto, an Italian cured ham, under the cheese mixture. Instead of spinach, use cooked Swiss chard. Dot with sliced olives, chopped green or red onion, or chopped Roma tomatoes.
Recipe © 1999, 2007 by Kate Heyhoe