---
---

Easy Pasta Salad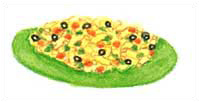 Pasta salad is simply pasta and vegetables mixed with a delicious dressing. In this case, the dressing is your own Apple Juice Vinaigrette.
Yield: This recipe makes 2 to 3 servings.
Time: It takes 20 minutes (including pasta cooking time), start to finish.

You will also need:
Medium-sized bowl
Cutting board and small, sharp knife
Measuring spoons
Wooden spoon
Plates and forks

Note to the adult: Cook 1 cup (1/4 pound) pasta in boiling, salted water until tender. Drain it in a colander, rinse under cold running water, and drain again. Transfer to the medium-sized bowl.
Ingredients:
2 cups cooked pasta (tubes, macaroni, small shells, or twists)
Half a red bell pepper, minced (cut in tiny pieces)
1 scallion, minced (cut in tiny pieces)
2 tablespoons chopped black olives
6 tablespoons Apple Juice Vinaigrette
Salt and pepper in shakers

1. You have the cooked pasta already in the bowl.
Add the bell pepper, scallion, and olives. Mix them in with the pasta, gently with a wooden spoon.
2. Shake the jar of Apple Juice Vinaigrette. Open it and measure out 6 tablespoons, one at a time, pouring each into the pasta.
Stir again with a wooden spoon.
3. Add a few shakes of salt and pepper, stir again, and serve warm or cool.
Visit Mollie Katzen at her Web site at http://www.molliekatzen.com
from:
Honest Pretzels
And 64 Other Amazing
Recipes for Cooks Ages 8 & Up
Written & illustrated by Mollie Katzen
Tricycle Press
Hardback, 192 pages, $19.95
Publication date: October 1999
ISBN: 1-883672-88-0
Recipe reprinted by permission.
Honest Pretzels
Back to the main Kids' Cookbooks page.
This page created November 1999