---
---

Pancakes
How to Use an Electric Mixer
Makes about 16 small pancakes
Difficulty Level: Medium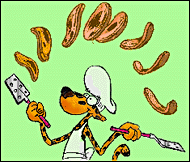 Pancake "pearls" from the Peppered Leopard:
Here are some neat little cooking tricks you might like to try out:
The secret to keeping pancakes from sticking to the griddle is to fill a small piece of cheesecloth with salt. Then, just before pouring the batter, rub the salt-bag over the surface of the hot griddle. (Maybe your mom or dad could do this for you!)
Add a tablespoon of maple syrup to the pancake batter to improve the taste.
For the lightest pancakes ever, just use club soda in place of the usual liquid in the batter.
Equipment: Electric mixer and bowl, measuring cups (dry and liquid), frying pan or griddle, measuring spoons, spatula, sifter.
Ingredients:
2 tablespoons butter or margarine
1 cup flour
1 teaspoon baking soda
1/2 teaspoon salt
1 tablespoon sugar
1/2 cup sour cream
1/2 cup milk
2 eggs

1. Grease a pancake griddle or frying pan with a little shortening or margarine.
2. Melt the 2 tablespoons butter or margarine and set aside to cool. In the mixer bowl, sift together the flour, baking soda, salt and sugar. With mixer at lowest speed, stir in the sour cream, milk and eggs. Add the melted butter or margarine.
3. With the mixer at medium speed, beat the mixture just until combined.
4. Heat the griddle or frying pan, and then test to see if it is hot enough. (To test the griddle, drop some water on it; and if the tiny bit of water sizzles and bounces, the griddle is ready). Pour 1 tablespoon of the batter onto the pan; bubbles should appear in less than a minute—that's when the griddle is ready.
5. To make pancakes, spoon 2 tablespoons of batter on the griddle for each pancake. When the pancake has bubbles all over the top, flip it with the spatula and brown the underside. Peek under the pancake by lifting one edge with the spatula to see if it is brown enough. Serve with syrup or honey.
Pancakes, Waffles & Electric Appliances
---
Back to the main Peppered Leopard page.
The Peppered Leopard is Copyright © 1995-2006 Jim Keeshen Productions, Inc. All Rights Reserved.