---
---

Judith and Evan Jones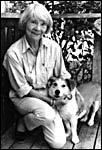 Judith Jones, an editor at Alfred A. Knopf in New York, learned to cook in her aunt's Vermont kitchen. She is not only the preeminent cookbook editor in publishing but also edits such literary icons as John Updike, John Hersey, and Anne Tyler.
Her husband, the late Evan Jones, began cooking as a youngster in Minnesota and is the author of books of history that include American Food: The Gastronomic Story and The World of Cheese. They collaborated on The Book of Bread, published in 1982, and The L.L. Bean Book of New New England Cookery, published in 1987.
Mitra Modarressi, the illustrator of Knead It, Punch It, Bake It!, is the daughter of Anne Tyler.
A Note About the Dog

Modarressi's charming line-drawings add warmth and humor to this edition of Knead It, Punch It, Bake It! Modarressi even used Judith Jones' beloved Welsh Corgi, Madoc, as the model for the ever-present dog in the book.
Knead It, Punch It, Bake It!:
The Ultimate Breadmaking Book for Parents and Kids
By Judith and Evan Jones
Illustrated by Mitra Modarressi
Houghton Mifflin Company
Hardback, $16.00
144 pages, Concealed Wire-o binding
ISBN: 0-395-89256-2
Information provided by the publisher.
Knead It, Punch It, Bake It!
Back to the main Kids' Cookbooks page.
This page created November 1999


Praise for the Original
Cooking with Kids book
General Mills Groceries
Save up to 30% on select General Mills breakfast, baking, snacks and boxed meals brands such as Chex, Cheerios, Nature Valley, Betty Crocker, Fruit Roll-ups, Hamburger helper and more.
Popchips
Save up to 30% on select Popchips.
Annie's Homegrown
Save up to 30% on select Annie's Homegrown boxed meals, snacks, cereals and dressings.
Nong Shim Noodles
Save up to 30% on select Nong Shim noodles and snacks.
Organic Valley Milk
Save up to 30% on select Organic Valley organic milk.