---
---
Cranberry-Cinnamon Poached Pears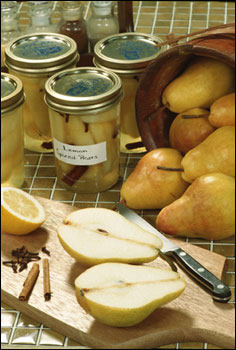 A Cooking with Kids Original Recipe
Preparation time: 5 minutes
Cooking time: 6 to 8 minutes
Yield: 4 small servings (1/2 pear each)

Here's a healthy sweet to serve as a snack or a dessert, garnished with a mint sprig or thick dollop of whipped yogurt.

Kid Tip
Kids trained in the use of a microwave can make this simple recipe by themselves, with just a parent's supervision.
Ingredients and steps
1/2 cup cranberry juice
1/8 teaspoon cinnamon
2 ripe pears
1/2 cup sugar
1. Mix the cranberry juice and cinnamon in a microwave-safe baking dish, just large enough to hold 4 pear halves.
2. Peel, halve and core the pears. Toss them in the cranberry juice as soon as you've prepared them to prevent them from turning brown.
3. Arrange the pear halves in a single layer. Sprinkle the sugar on top.
4. Cover the dish and microwave on high for 6 minutes.
5. Using potholders (the dish will be hot), carefully remove the lid, opening it away from you so you don't get burned from the steam. Pierce a pear with a fork. If it pierces easily, the pears are done. If not, cover and microwave on high another 1 to 2 minutes.
6. Toss the pears in the syrup. Cover and let cool for 20 minutes, or refrigerate until ready to serve. These pears will last several days in the refrigerator, if they don't get eaten up first!
Recipe © 1999 by Kate Heyhoe


Praise for the Original
Cooking with Kids book
General Mills Groceries
Save up to 30% on select General Mills breakfast, baking, snacks and boxed meals brands such as Chex, Cheerios, Nature Valley, Betty Crocker, Fruit Roll-ups, Hamburger helper and more.
Popchips
Save up to 30% on select Popchips.
Annie's Homegrown
Save up to 30% on select Annie's Homegrown boxed meals, snacks, cereals and dressings.
Nong Shim Noodles
Save up to 30% on select Nong Shim noodles and snacks.
Organic Valley Milk
Save up to 30% on select Organic Valley organic milk.