---
---
Mango-Cheese Quesadilla
A Cooking with Kids Original Recipe
Preparation time: 5 minutes
Cooking time: about 5 minutes
Yield: 1 serving (1 quesadilla)

Use this as a basic recipe for quesadillas (keh-sah-DEE-yahs)—a Mexican treat that melts cheese and other goodies in a flour tortilla. This version pairs sweet mangoes with tangy red onion and melted cheese, but you can make quesadillas using your favorite ingredients. Be careful that the tortilla doesn't cook faster than the cheese can melt, or you'll wind up with a hard, blackened, Frisbee-like concoction.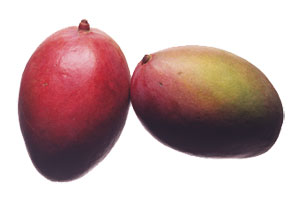 For best results, cook on medium to low heat, checking the bottom of the tortilla after a couple of minutes to make sure it's not burning. If you're cooking many quesadillas, place the cooked ones on a baking sheet in a warm oven until all are completed. For more creative combinations, see the list of ideas below.
Photo: Mangoes

Kid Tip
Kids of all ages can help make these tasty morsels. Young ones can shred or sprinkle on the cheese, and kids old enough to use a knife can chop the ingredients and flip the quesadillas with a spatula.
Cooking Tip
When preparing quesadillas, make sure your ingredients are thinly sliced, finely shredded or finely chopped, so they'll cook or melt quickly.
Do this first:
Chop enough red onion to make 1 tablespoon.
Peel and chop enough mango to make 1/3 cup.
Shred enough Monterey Jack or other cheese to make 1/3 cup, or use pre-shredded cheese.
If the tortilla seems dry, wet your clean hands and rub it on both sides with water to dampen. Let the tortilla rest a few minutes to absorb the moisture before cooking.
Ingredients and steps
butter or margarine, softened
1 flour tortilla (6-8 inches in diameter)
1/3 cup shredded cheese, such as Monterey Jack or other good melting cheese
1 tablespoon finely chopped red onion
1/3 cup chopped mango
salsa (red or green) to taste (optional)
pinch ground cumin (optional)
pinch chile powder (optional)
1. Heat skillet (preferably non-stick) over medium heat.
2. With small spatula or butter knife, spread a thin amount of butter or margarine on one side of the flour tortilla.
3. Place the unbuttered side of the tortilla face down on the skillet. Let it heat through, about 15 seconds.
4. Flip the tortilla over, reduce the heat to low and sprinkle the grated cheese and red onion on top of the tortilla, leaving a half-inch margin around the edges. Sprinkle the top with a pinch each of cumin and chile powder. If desired, add a spoonful of salsa on top.
5. When the cheese has melted or is just about melted, flip one half of the tortilla over on top of the other (closing the two sides will also help melt the cheese). Slice into wedges and serve warm.
Quirky Quesadilla Combos
These aren't your average quesadillas, but the unusual contrasts in flavors and textures make these quesadillas much more fun to make and even more fun to eat! Quesadillas are great packages for upping the fruits and veggies in your diet. Try these combinations:
Papaya & Goat Cheese, with a small amount of roasted green chiles & onion
Black Olive, Cucumber & Feta, with a sprinkling of oregano & grated lemon rind
Turkey, Red Peppers & Swiss with Salsa Verde
Shrimp & Boursin cheese with a dash of tarragon (use tiny cooked bay shrimp)
Prosciutto, Melon & Bel Paese
Ham, Oyster Mushrooms & Gruyere (sauté the oyster mushrooms in butter first; or substitute your favorite mushroom)
Shredded Zucchini, Onion & Garlic Jack, with chile powder and cumin
Pork Sausage, Apples & Cheddar (fry the sausage till crumbly first)
Red Radishes & Stilton cheese, with red onion slices
Tangerine & Smoked Gouda, with a small amount of green chiles and cilantro
Italian Sausage, Mozzarella & Yellow Peppers (fry the sausage first)
Tomatoes, Basil & Buffalo Mozzarella, and fresh cracked black pepper
Peaches & Cream Cheese, with grated lemon peel
Pineapple & Brie, with grated lime peel
Bacon, Fresh Rosemary, Tomatoes & Provolone (fry the bacon first, then crumble)
Recipe © 1999 by Kate Heyhoe


Praise for the Original
Cooking with Kids book
General Mills Groceries
Save up to 30% on select General Mills breakfast, baking, snacks and boxed meals brands such as Chex, Cheerios, Nature Valley, Betty Crocker, Fruit Roll-ups, Hamburger helper and more.
Popchips
Save up to 30% on select Popchips.
Annie's Homegrown
Save up to 30% on select Annie's Homegrown boxed meals, snacks, cereals and dressings.
Nong Shim Noodles
Save up to 30% on select Nong Shim noodles and snacks.
Organic Valley Milk
Save up to 30% on select Organic Valley organic milk.