The Online Edition
Cooking with Kids
by Kate Heyhoe
Originally published as Cooking with Kids for Dummies
by IDG Books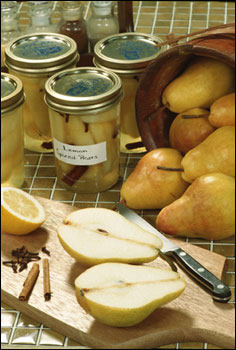 Here's a healthy sweet to serve as a snack or a dessert, garnished with a mint sprig or thick dollop of whipped yogurt. Kids trained in the use of a microwave can make this simple recipe by themselves, with just a parent's supervision. MORE...
---
---
Kids' Kitchen Tools and Pint-Size Equipment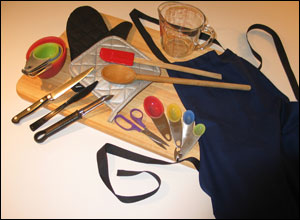 You'll want to include these cookware essentials, shown in the photo, in your kid's cooking kit.
Young chefs cook best with their own personal set of tools.
Measuring spoon set
Measuring cups: one for dry ingredients and one for wet ingredients
Wooden spoon
Apron or large t-shirt
Potholders and/or oven mitts
Small knife (plastic, paring, or as appropriate for your child)
Vegetable peeler
Safety scissors
Rubber spatula
Small cutting board
After your young chef has a personal set of equipment, think about providing a permanent place for all these great tools. It can be just about any type of container, as long as it's easily accessible to the child and not stuck away in a closet piled under stacks of linens or other things. Here's a few suggestions for places in which to store your kid's cookware:
A large, lower kitchen drawer
An industrial-sized lunchbox, the kind used by construction workers
A portable tool kit
A cardboard file box, known as a banker's box
A plastic storage box, with handles and lid
Assemble the items first (before deciding on a container), adding any equipment from your own kitchen that you want your child to have (like a melon baller, rolling pin, whisk, or other tools—see Chapter 3 for more ideas). Then, make sure that the area for your child's tools is large enough to hold all of the tools comfortably. When in doubt, go for a larger space than a smaller one, so that items aren't cramped and difficult to find
Read the full article: Ten Items for Your Kid's Cookware Kit


Praise for the Original
Cooking with Kids book
General Mills Groceries
Save up to 30% on select General Mills breakfast, baking, snacks and boxed meals brands such as Chex, Cheerios, Nature Valley, Betty Crocker, Fruit Roll-ups, Hamburger helper and more.
Popchips
Save up to 30% on select Popchips.
Annie's Homegrown
Save up to 30% on select Annie's Homegrown boxed meals, snacks, cereals and dressings.
Nong Shim Noodles
Save up to 30% on select Nong Shim noodles and snacks.
Organic Valley Milk
Save up to 30% on select Organic Valley organic milk.